Motorcycle Accident Lawyer in Colorado
Many Colorado residents ride motorcycles either as a fun recreational activity on the weekends or as a daily method of transportation.
After all, our state has some of the best roads in the country for motorcyclists to enjoy.
Even though many riders appreciate the risks on motorcycles and take necessary precautions, they cannot always protect themselves from other motorists' negligence or recklessness on the road. When a motorcycle rider is seriously injured in a crash, the rider may be entitled to seek compensation from the driver or other party responsible for the accident.
Motorcycle riders who are injured in an accident through no fault of their own often face significant challenges with seeking the compensation they need and deserve. If you have been injured in a motorcycle crash, don't leave your recovery to chance. The Colorado motorcycle accident lawyers at Earl & Earl, PLLC, have helped many injured accident victims like yourself pursue compensation and justice from those parties at fault for our client's injuries.
Our motorcycle accident lawyers in Colorado are passionate about protecting your rights, and we believe you shouldn't have to spend time worrying over legal matters when you should be focused on recovering from the injuries that were caused due to another person's negligence. We can handle all of the legal issues for you so that you can focus on getting better. We provide the legal know-how and insight that allows our clients to make smart decisions about how they wish to proceed with their case.
We understand that every motorcycle accident is unique, and we take the time to fully investigate each client's accident before determining which parties are at fault for the crash. Our team of personal injury attorneys will also help you fight to ensure that your rights are protected throughout the legal process.
Our Colorado personal injury attorneys have dedicated their careers to helping people who were seriously injured, like you, get back on their feet after they suffered serious injuries due to someone else's negligent or reckless behavior. We offer free initial consultations, and we will never charge you any attorney fees until we have successfully recovered compensation for your injuries.
The first step towards getting back to normal is to speak with a motorcycle accident attorney in Colorado about your case. We help our clients every step of the way, from pursuing a settlement or filing personal injury claims against insurance companies to litigating on their behalf if needed.
We treat our clients like family, which means that you and your case will receive the personalized attention and dedicated effort you deserve. We pride ourselves on always being accessible to our clients throughout their cases. When you work with us, you will always have direct access to the attorney handling your case. You will never have to worry about getting passed off to an assistant.
Contact Earl & Earl, PLLC today for a free case review. You can speak to one of our knowledgeable Colorado motorcycle accident attorneys about how we can help you seek the compensation you need to help get your life back on track.
What Compensation Can You Expect in a Motorcycle Accident Claim?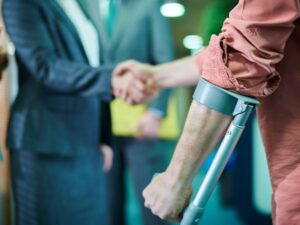 If you believe you may have a motorcycle accident claim against another driver or some other party at fault for the crash, you may be entitled to pursue compensation for losses that you have suffered, including:
Medical treatment, including the initial emergency room visit, surgeries and other medical procedures, doctor's appointments, medications, and medical or mobility equipment you must purchase for your injuries
Physical and occupational therapy following injuries or due to disabilities
Lost wages or income when you miss time from your job while recovering from the accident
Lost earning potential if your injuries cause you to suffer disabilities that affect your ability to make the same level of income as you did before the accident
Lost quality of life because of scarring, physical disabilities, or reduced life expectancy due to your injuries
Physical pain and emotional distress arising from your injuries and subsequent treatment
Repair or replacement of your motorcycle, along with other damaged property such as your helmet and clothing you were wearing at the time of the accident
Contact Us Now