Colorado Motorcycle Laws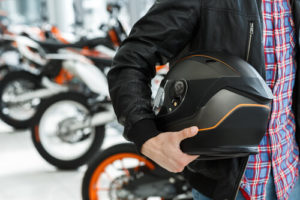 Riding a motorcycle provides an experience unlike any other vehicle on the road. It also requires that a rider have the necessary skill, experience, and equipment. To ensure motorcycle riders' safety and others' safety on the road, Colorado state and local municipal laws impose many licensing, equipment, and operating requirements on persons who use their motorcycles on public roads and highways.
At Earl & Earl, PLLC, we understand how these laws can impact a person's ability to recover rightful compensation when injured in a motorcycle accident due to another person's negligence. If you have questions about Colorado's motorcycle laws – and how they might affect your case – you can turn to our legal team for answers. Call or connect with us online today for a free consultation about your case.
Colorado Motorcycle Street Legal Requirements
To lawfully operate a motorcycle on public roads and highways in Colorado, a rider must equip his or her bike with the following:
At least one and not more than two headlamps that comply with the statutory requirements and limitations applicable to vehicle headlamps
At least one red tail lamp mounted not less than 20 inches nor more than 72 inches from the ground
At least one rear reflector
At least one stop lamp for all motorcycles manufactured after January 1, 1958
Brakes, equipped to at least one wheel
A horn that produces an audible sound at a distance of at least 200 feet
A muffler
At least one mirror that provides a rear-view distance of at least 200 feet
Tires approved by the U.S. Department of Transportation (USDOT) for road use
All manufacturer-installed safety equipment
All the above equipment must remain in good working condition. If a motorcycle carries a passenger, the bike must be equipped with manufacturer-installed separate seat and footrests for the passenger. All motorcycle passengers must sit behind the operator or in a sidecar attached to the motorcycle.
Colorado Motorcycle Helmet Law
Colorado does not require motorcycle riders or passengers to wear helmets unless they are under 18 years old. Motorcycle operators or passengers under 18 must wear a motorcycle helmet approved by the U.S. Department of Transportation. An approved helmet will usually have a DOT sticker. Helmets with certification stickers from reputable independent testing companies, such as ANSI or Snell, will also likely meet USDOT requirements.
All motorcycle operators and passengers are required to wear some form of eye protection. Although the ideal eye protection comes from a visor or face shield on a helmet, goggles or glasses made with safety glass or shatterproof plastic in the lenses may also be used. A windshield on the motorcycle itself does not constitute legal eye protection.
Colorado Motorcycle License and Permit Requirements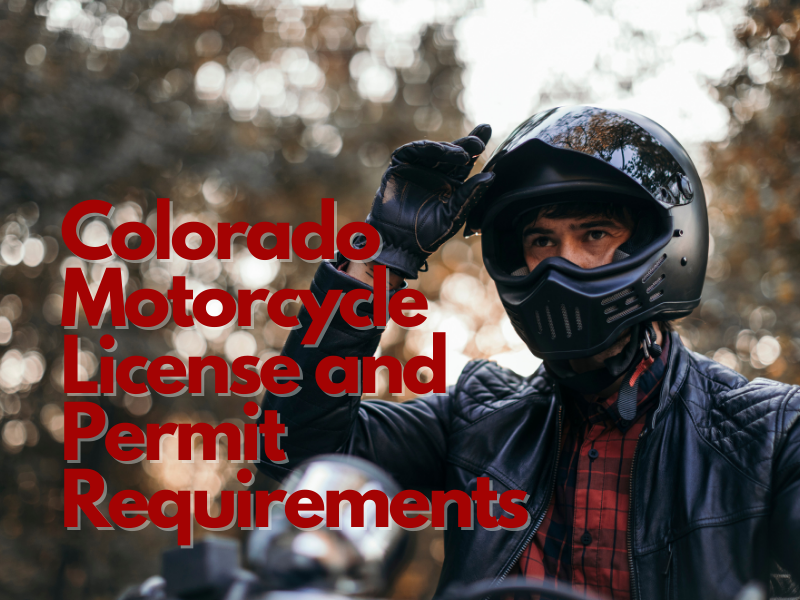 A person may lawfully operate a motorcycle only on public roads and highways if they have a valid driver's license with a motorcycle endorsement. Colorado no longer issues separate motorcycle licenses. Colorado gives two types of motorcycle endorsements. A general "M" endorsement permits a licensee to operate two- or three-wheeled motorcycles. A "3" endorsement allows a licensee to drive only a three-wheeled motorcycle.
A person is eligible to apply for a motorcycle endorsement in Colorado if they are at least 16 years old and possess a valid driver's license. An individual can obtain a motorcycle endorsement in one of two ways:
Pass the written motorcycle skills exam and get a motorcycle instruction permit. This route allows a person to ride a motorcycle under the supervision of another individual with a valid Colorado license and motorcycle endorsement who is 21 years of age or older. A 15-year-old may apply for a motorcycle instruction permit after completing a motorcycle skills training course. Individuals under the age of 18 must hold a motorcycle instruction permit for at least 12 months before applying for a motorcycle endorsement. Any person holding a motorcycle instruction permit may obtain their endorsement by passing a motorcycle driving skills test.
Complete an approved motorcycle operator skills training course (MOST). To use this option, a person must be 18 years of age or older. Completing a MOST course acts as a waiver and allows you to add a motorcycle endorsement to your license.
Colorado Motorcycle Parking Laws
In many Colorado municipalities, including Denver, ordinances require motorcycles parked on the street be positioned so they don't protrude into the roadway or obstruct traffic. For example, Denver's municipal code requires that a parked motorcycle be angled toward the edge of the road in the direction of lawful traffic. Denver municipal code further permits a motorcycle to be parked in a metered space already occupied by a parked motorcycle.
State law prohibits parking any vehicle, except when necessary to avoid conflict with traffic or at the direction of a police officer:
On a sidewalk
Within an intersection
On a crosswalk
Between a safety zone and the adjacent curb, or within 30 feet of the curb immediately opposite the end of a safety zone (unless otherwise provided by signs)
Alongside street construction when doing so would obstruct traffic
Along the roadway side of a street-parked vehicle
On a bridge or elevated highway, or inside a highway tunnel
On railroad tracks
On any controlled-access highway
Between roadways on a divided highway
Colorado Lane-Splitting Law
Under Colorado law, a motorcycle can use the entire width of a lane of traffic. The law prohibits motorcycles from lane-splitting, or riding along road lines or in between lanes of traffic. Lane-splitting typically occurs when traffic is stopped or slow-moving.
The law also requires that vehicles passing a motorcycle on the road move entirely over to the adjacent left lane (if legal to do so) when overtaking the motorcycle. The only exception under Colorado law to the prohibition on multiple vehicles sharing the same lane of traffic applies when two motorcycles ride side-by-side in the same traffic lane.
Colorado Motorcycle Insurance
Liability insurance is required for all motorcycles operated in Colorado. This includes bodily injury and property damage liability, as well as medical payments and PIP coverage. The minimum level of insurance required by Colorado law is $25,000 per person and $50,000 per accident in the case of bodily injury; property damage liability requires a minimum of $15,000.
Motorcycle insurance is not legally required to operate a motorcycle in Colorado; however, you cannot carry passengers unless you have such coverage.
In the state of Colorado, you have a choice in what type of policy to purchase. In order to be compensated for medical bills and lost wages under your own health insurance, you must have Personal Injury Protection (PIP) or Medical Payments coverage. This can be done by purchasing either a no-fault policy or a tort option policy.
Tips for Motorcycle Riders in Colorado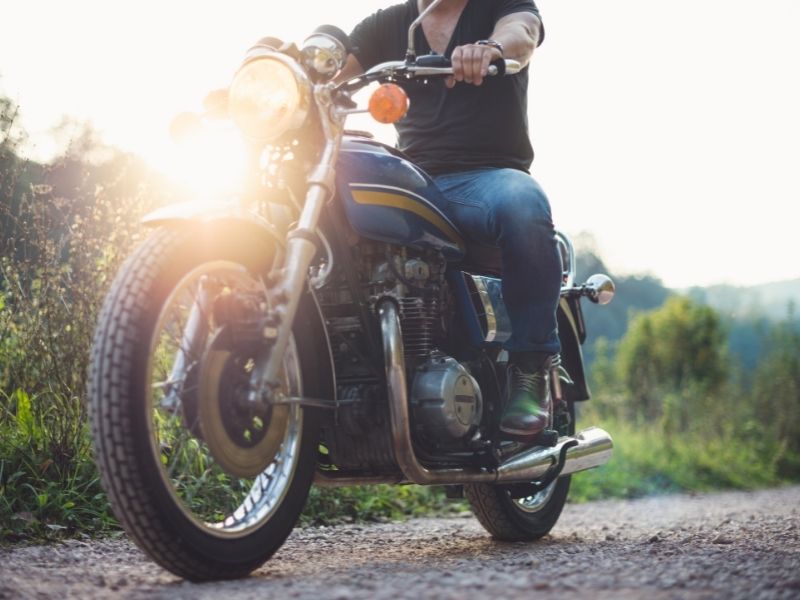 Colorado offers many opportunities to experience the joys of motorcycle riding – scenic mountain views, winding roads, and boundless open space. While these experiences can be rewarding and exhilarating, they also come with a heightened level of risk. According to data from the Colorado Department of Transportation, motorcycle fatalities in 2012 made up 24% of all motor vehicle deaths. Motorcycle fatalities peaked at 116 in 2003 and have been on the decline ever since.
Despite this decrease, all it takes is one accident to cause an irreversible loss. Out of respect for the risks involved, we wanted to offer a few tips for motorcycle riders as they navigate Colorado's roads:
Plan Ahead – Prepare for any possible scenario and be able to recognize and avoid potentially hazardous situations. On a motorcycle, begin this process by making sure you have all the necessary safety equipment (i.e., jackets/coats, helmets, gloves). Next, make sure your bike is in top shape – brakes, tires, and any other components should be checked as well as your oil levels.
Know Your Limits – When it comes to speeds, the speed limit is just that – a limit. There is no "safe" amount of time you can drive over the posted speed before it becomes illegal. By exceeding speeds beyond what you are capable of handling, you put yourself and other drivers at risk.
Be Visible – When you're out on the road, it's critical that other drivers can see you. Be sure your headlight is on and that your reflective gear is in good condition – if a driver isn't able to spot you, they may accidentally drive into you.
Use Extra Caution – When weather conditions are poor (i.e., rain, snow, ice), be extra cautious of other drivers on the road. Water makes it difficult to brake and can cause you to lose control of your bike, while ice or snow may not allow enough traction for safe braking.
Ride with a Group – Riding solo is for cowboys, but riding in a group provides several benefits. It allows you to split the work of spotting hazards, provides camaraderie for those long road trips, and ensures you have at least one other person to help in case something goes wrong.
If you are injured in an accident due to someone else's carelessness or negligence, contact a Colorado motorcycle accident attorney who can help protect your rights. Contact Earl and Earl, PLLC today!
Talk to a Colorado Motorcycle Accident Lawyer Now
If you have questions about the legal requirements for operating a motorcycle in Colorado, or if you've been injured in a motorcycle accident, contact Earl & Earl, PLLC today. We are ready to provide a free, no-obligation consultation with one of our experienced and dedicated Colorado motorcycle lawyers.
We serve motorcycle accident victims throughout the state from offices in Colorado Springs, Castle Rock, Grand Junction, Denver, and Pueblo.