Pedestrian Accident Attorney in Colorado
The laws in Colorado are intended to protect pedestrians from devastating accidents with motor vehicles.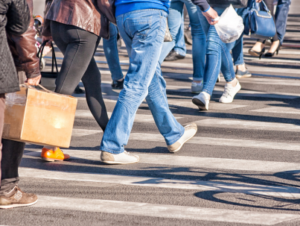 Unfortunately, negligent and reckless drivers still get into accidents with unsuspecting and vulnerable pedestrians.
Even a low-speed impact has the potential to inflict severe and life-altering injuries on a pedestrian. If you have been in a pedestrian accident, you deserve to seek just compensation from the driver or other party liable for your injuries and losses.
At Earl & Earl, PLLC, our pedestrian accident lawyers in Colorado want to help you get your life back on track after you have suffered catastrophic injuries. We understand the stress of undergoing medical treatment, missing time from work, and dealing with unexpected expenses. That's why our attorneys take the time to ensure you know your rights and options and know what to expect throughout the process. Let us handle all the details so you can keep your focus and energy on recovering from your injuries.
Contact Earl & Earl, PLLC today for a free case evaluation with an experienced Colorado pedestrian accident lawyer. We will discuss how our pedestrian accident attorneys can help you pursue maximum financial recovery for the injuries you have suffered due to another driver's negligence or recklessness.
How Our Colorado Springs Pedestrian Accident Lawyers Can Help
Following a pedestrian accident, let the lawyers of Earl & Earl, PLLC help you to seek a financial recovery and justice for your injuries by:
Preparing an individualized legal strategy for your case based on your stated needs and goals
Conducting a thorough investigation of the accident to recover all available evidence
Consulting with accident reconstruction experts to help us build a persuasive case to show how the accident occurred and identify those parties at fault
Bringing in medical, vocational, and financial experts to determine the extent of your ongoing and future expenses and losses
Filing claims with the insurance company on your behalf, negotiating for a fair and full settlement of your claim
Taking your case to court or trial if necessary
With Earl & Earl, PLLC, there's no risk to you in seeking compensation for your injuries. You will never owe us any upfront costs, and we will get paid only if our pedestrian accident attorneys secure a financial recovery for you.
Contact Us Now