How to Determine Fault in a Colorado Automobile Accident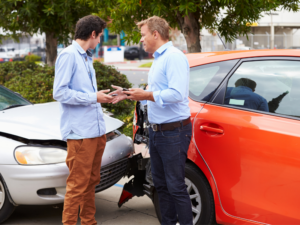 Identifying fault after an auto accident is a vital part of figuring out who pays for your injuries and losses. But how is fault determined after a car accident in Colorado?
After a crash, confusion often arises about who is liable for paying the damages. Even fender benders may not have clear-cut answers.
Never make assumptions regarding liability. Instead, contact a Colorado car accident lawyer as soon as possible. A skilled attorney can help you establish fault and file a claim for compensation.
The experienced car accident lawyers at Earl & Earl, PLLC will advise you of your rights and legal options in a free consultation. Call or contact us online today for help to seek justice and fair compensation.
Visit an Car Accident Lawyer near you

Is Colorado a No-Fault State?
Some states follow a no-fault auto insurance system, which means injured victims first turn to their own insurance companies for compensation after a car wreck. Not in Colorado.
Colorado is a fault state. In these cases, the motorist responsible for the car accident is liable for any injuries, losses, and costs associated with the crash. Victims can pursue compensation in three main ways, including:
Filing a claim with the at-fault driver's insurance company
Filing a claim with their own insurer, if the liable driver is uninsured or underinsured
Filing a personal injury lawsuit against the at-fault driver
In addition to being an at-fault state, Colorado also follows a modified comparative negligence system when awarding damages. Under this law, victims can recover compensation even if they are partly liable for an accident. However, the amount they receive will be reduced based on the percentage of fault they bear for the wreck.
If a driver is determined to be more than 50 percent responsible for a car crash in Colorado, they cannot recover any compensation whatsoever. Because so much hinges on the percentage of fault you are assigned for a collision, it's a good idea to discuss your case with a car accident lawyer before agreeing to a settlement with the insurance company.
How is Fault Determined in a Car Accident?
In Colorado, negligence is the key to determining fault after a car accident. In legal terms, negligence means failing to use due caution or adequate care to prevent harming others. Those who get behind the wheel of a car must operate it in a reasonably safe manner. When an individual is reckless or violates the rules of the road, they are negligent. Common examples of negligent driving behaviors include:
Driving while intoxicated
Speeding
Drowsy driving
Failing to obey posted signs and signals
Failing to yield
Unsafe lane changes
Tailgating
Proving negligence can be challenging, and that's why working with a knowledgeable car accident lawyer is so important. Your attorney will have the resources to gather evidence to support your claim, including the police report, photographs, video surveillance footage, witness statements, cell phone records, and medical records.
What if More Than One Party is At Fault?
Colorado car accidents get more complicated as the number of potentially liable parties grows.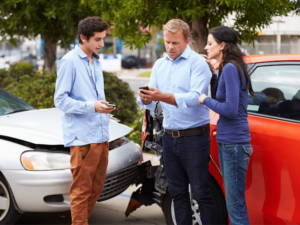 For example, multiple drivers could be responsible for a pileup accident on a highway. How do you determine fault when several parties could be to blame? It's likely a question your car accident lawyer can answer better than you can. As insurance companies dispute over who is more to blame, you risk being assigned more fault than you deserve. And again, because of Colorado's modified comparative negligence system, your final award could be reduced based on an unfair assignment of fault. For this reason, it's best to consult with a personal injury attorney who can narrow down who should be held accountable in your case.
At Earl & Earl, PLLC, our legal team will conduct a thorough investigation to identify who is liable and all potential sources of compensation for you. Our priority is securing full and fair compensation that provides for your needs, both now and in the future.
How a Car Accident Lawyer Can Help
Having an experienced Colorado Springs car accident attorney on your side can make a world of difference in the outcome of your case. A lawyer can aggressively fight for you and craft a solid claim to maximize your chance of recovering compensation.
Our car accident lawyers will:
Review your case and investigate the cause of the accident
Establish liability for the crash and collect crucial evidence to prove negligence
File your insurance claim(s) and handle all settlement negotiations with adjusters
Develop a personalized legal strategy that best meets your needs and goals
Demand fair compensation for your losses
Prepare a case for trial, if settlement talks break down
A skilled attorney will be your advocate, look out for your best interests, and fight for the outcome you desire after a car accident.
Call Earl & Earl, PLLC Today
After a motor vehicle crash, liability might not be as straightforward or evident as you think. If you've been hurt in a Colorado Springs car accident, reach out to an experienced car accident attorney today for help with your claim.
For years, the team at Earl & Earl, PLLC has helped Colorado Springs injured people just like you seek the compensation they are entitled to. Contact us today for a free case review with a proven car accident lawyer.