Colorado Fatal Truck Accident Lawyer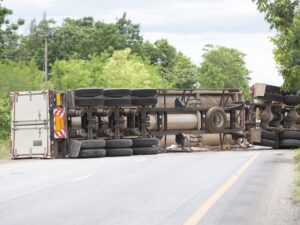 Thousands of tractor-trailers and other commercial trucks travel through Colorado every day. Although we rely on these big rigs to keep our economy going, their mere presence on our state's roads presents serious risks to all other road users.
Dozens of people die in large truck accidents in Colorado every year, and thousands more die nationally. Many of these crashes are preventable tragedies that leave surviving loved ones devastated and searching for justice.
Fortunately, Colorado law gives certain survivors the right to hold negligent parties accountable and claim fair compensation by filing wrongful death lawsuits. To learn whether you have grounds for a wrongful death case in Colorado, contact the legal team at Earl & Earl, PLLC for a free initial consultation.
Common Causes of Fatal Truck Accidents
Many of the common causes of fatal truck accidents are similar to those of standard car accidents, such as:
Distracted driving
Driving while impaired
Drowsy driving
Speeding or driving too fast for conditions
Taking turns too quickly
Overcorrecting
Braking too sharply or too often
Reckless behaviors, like tailgating and lane weaving
Blind-spot accidents
Defective tires, brakes, or steering systems
Poor road conditions
However, there are also contributing factors that are more unique to semi-truck crashes, including:
Negligent hiring
Untrained truckers
Unsecured cargo
Failure to comply with federal hours-of-service regulations
Maintenance and inspection violations
Truck accident cases often involve an examination of both state and federal law. A Colorado Springs truck accident lawyer who understands the intersections between these complex laws can help determine who should be held liable for your loved one's death.
Truck Accident Fatality Statistics
According to truck accident statistics published by the National Safety Council (NSC), 97 large trucks were involved in fatal crashes in Colorado in one recent year. These trucks represented 11 percent of all vehicles involved in fatal crashes in Colorado and roughly two percent of trucks involved in fatal accidents throughout the U.S. that year.
Additional truck accident facts from the Insurance Institute for Highway Safety (IIHS) shed light on the threat of truck accident deaths on U.S. roads:
In a single recent year, 4,119 people died due to large truck crashes, a 31 percent increase over the previous decade.
Eleven percent of all people who died in motor vehicle crashes were killed in truck accidents.
That same year, 67 percent of truck fatalities were passenger vehicle occupants. Another 16 percent were truck occupants, and 15 percent were motorcyclists, cyclists, or pedestrians.
In fatal two-vehicle accidents involving a commercial truck, 97 percent of the deaths were occupants of the other car.
More than half of truck occupant deaths stemmed from single-vehicle truck accidents.
Nearly half of truck accident fatalities occurred between 6 a.m. and 3 p.m.
Weekends accounted for 16 percent of fatal truck collisions.
Truck rollovers made up 47 percent of truck occupant fatalities.
Nearly 30 percent of passenger-vehicle occupant fatalities occurred in head-on truck accidents that year. Another 24 percent were side-impact truck crashes, and an additional 24 percent of truck deaths occurred in rear-end accidents.
Federal alcohol restrictions on truckers limit their blood alcohol concentrations (BACs) to 0.04 ― half the legal limit for non-commercial drivers. Still, three percent of fatally injured truck drivers had BACs above the legal limit of 0.08.
Who Can File a Wrongful Death Lawsuit After a Fatal Truck Accident?
When someone dies in a Colorado truck accident, their surviving loved ones may be entitled to pursue compensation through a wrongful death lawsuit. However, only specific individuals have the legal authority to file this type of claim in civil court.
If the person who died was unmarried and did not leave behind any children or designated beneficiaries, their parents can file a wrongful death claim.
However, if the person who died was married, had children, or designated another beneficiary, truck accident death claims work differently. It depends on the time that has elapsed since the victim's passing.
First year after death: If the person was married, only their spouse can file a claim. However, surviving spouses can also grant the deceased's children the right to file. If the person was unmarried, only their surviving children or designated beneficiary has the right to file.
Second year after death: If no one files a wrongful death claim in the first year after the person's death, their surviving spouse, surviving children, or designated beneficiary can file. If surviving children file a claim, spouses and beneficiaries have up to 90 days to join the wrongful death lawsuit.
Pursuing Compensation After a Fatal Truck Accident
Depending on the specifics of your situation, you may be entitled to compensation for the following types of losses in a fatal truck accident lawsuit:
Lost income and other compensation the deceased likely would have provided throughout their lifetime
Lost benefits the deceased would have provided, such as health insurance
Funeral or burial expenses
The intangible costs of your grief, pain and suffering, emotional distress, and loss of the deceased's companionship (subject to state caps)
A truck accident attorney in Colorado Springs can place an appropriate value on your case after a careful review of the facts.
How Can a Colorado Truck Accident Lawyer Can Help
The grief after a family member dies in a truck accident can make it difficult to know what to do or how to file a complaint against a trucking company. An experienced truck accident attorney can provide guidance to help you make the best decision for your family.
At Earl & Earl, PLLC, we will:
Listen carefully to your story
Determine whether you have grounds to file a wrongful death claim
Identify all liable parties
Estimate the potential value of your claim
Gather evidence to build a solid case against the at-fault party(s)
Prepare and file all necessary paperwork
Communicate with insurance companies and other attorneys for you
Negotiate aggressively for maximum compensation for you
Take your case to trial, if necessary
Contact a Fatal Truck Accident Lawyer in Colorado Springs Today
Earl & Earl, PLLC is an accomplished Colorado Springs personal injury law firm with a history of successfully representing individuals hurt in accidents caused by others' negligence. If you lost a family member in a trucking accident, our distinguished attorneys will help you pursue the compensation and accountability you deserve. Call or contact us today for a free consultation.