How Much Compensation Can One Get for a Traumatic Brain Injury?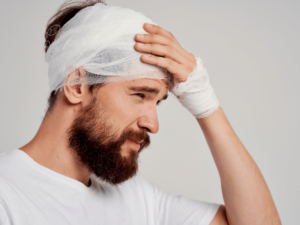 Traumatic brain injury survivors know that life after a TBI is far from easy. Brain injuries take a significant personal and financial toll. But if your TBI is the result of someone else's recklessness, don't lose hope. You may be entitled to compensation for your losses under Colorado law.
In Colorado, accident victims can file a TBI claim demanding compensation from the party(s) responsible for their injury. But how much is your traumatic brain injury claim worth? That's a question for a personal injury lawyer at Earl & Earl, PLLC.
Our Colorado brain injury attorneys can review the details of your case in a free consultation. We'll collect the information needed to place an appropriate value on your claim during that time. Call or contact us today to learn about your rights and options for moving forward.
Is It Possible to Sue for TBI After a Car Accident?
Car accident claims fall under the general category of personal injury law in Colorado. These statutes say you can sue for a TBI after a crash as long as the injury resulted from someone else's unsafe actions. The defendants in a car accident lawsuit could be a person (e.g., a drunk driver) or another entity, such as an automaker whose defective tires caused a collision that led to your head injury. An experienced brain injury attorney can identify every party that can be held liable for your TBI.
The Importance of an Immediate Medical Exam
If you were involved in an accident where you sustained a blow or jolt to the head, you need to seek immediate medical attention. A person could suffer a life-threatening traumatic brain injury, even if they seem perfectly fine after the incident. A doctor can look for signs of injury that may not be visible to non-medical professionals.
However, not every head injury shows up on X-ray at first. Go to the emergency room immediately if you later experience symptoms such as:
Dizziness
Nausea
Vomiting
Loss of consciousness
Difficulty falling asleep or sleeping more than normal
Inability to be awoken from sleep
Seizures
Numbness or weakness
Confusion
Memory loss
Speech problems
Personality changes
Depression
Irritability
When brain injuries are left untreated, they can worsen and may lead to permanent disabilities. The cost for ongoing medical care and other needs to accommodate a severe TBI can reach into the millions. A full and fair TBI settlement can help victims and families prepare for whatever the future holds.
Factors That Impact a TBI Claim
One of the first questions clients ask during a case review is, "What's the average settlement for a traumatic brain injury?" Various factors impact the total amount of compensation you might recover after a TBI, including:
Severity of the injury – The worse the TBI, the greater the amount of compensation you could potentially recover. More severe injuries mean greater expenses for treatment and rehabilitation and larger losses from lost income and reduced quality of life.
Your TBI treatment history – Head injury compensation payouts may be affected if the liable party(s) argue that you worsened your condition by failing to promptly seek medical care or ignored treatment instructions.
Disputes over fault – To prevail in your case, you must prove that the other party is at fault for your injury. But your TBI settlement amount could be reduced if the defendant disputes your claims over who is to blame. That's why you need a lawyer on your side. A skilled brain injury attorney will collect strong evidence that stands up to challenges from the at-fault party.
Shared fault – Colorado's comparative negligence law states that your compensation can be reduced if you are partly responsible for the accident that caused your brain injury.
The financial resources available to compensate you – You may not be able to recover the full amount of your losses if they exceed the negligent party's insurance policy limits.
What Is the Average Payout for a Head Injury?

Head injury payouts depend entirely on the severity of the injury and the facts of the case. For that reason, there's no accurate way to estimate an average settlement amount. As a general rule, you can expect a mild TBI where victims make a full recovery to have a lower payout than one for someone with a catastrophic brain injury who can never live independently again.
How Much Is My TBI Claim Worth?
The value of your TBI claim will depend on many factors. You can be compensated for losses such as:
Past and current medical bills
Anticipated future medical costs
Costs for long-term care, such as home health services or assisted living facilities
Lost wages and employment benefits
Lost earning capacity
Emotional distress
Lost enjoyment or quality of life
Reduced life expectancy
How Can a Brain Injury Lawyer in Colorado Help Me?
Before filing a TBI claim, you'll need someone to investigate the accident, collect persuasive evidence, interview witnesses, and build the strongest case possible. The traumatic brain injury attorneys from Earl & Earl, PLLC, can help you by:
Conducting an independent investigation into the accident
Recovering evidence to identify every party who can be held liable
Reviewing your rights and explaining what to expect throughout the claims process
Documenting your injuries, expenses, and losses
Filing your claims with the at-fault parties and insurance companies
Negotiating aggressively for a TBI settlement that accounts for your past, present, and future losses
Taking your case to trial, if necessary, to fight for the best possible result for you
Contact a Colorado TBI Lawyer Today
If you've suffered a brain injury in an accident caused by someone else's carelessness, get compassionate and competent legal help from Earl & Earl, PLLC. Call or contact us today for a free case evaluation.