A Personal Injury Lawsuit's Impact on Quality of Life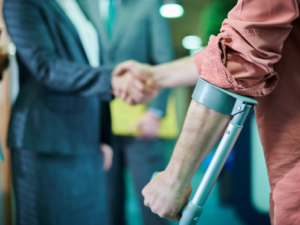 When you suffer an injury due to someone else's negligence, you may be entitled to compensation for your financial losses, such as medical bills and lost wages. But what about the losses you can't measure in dollars and cents? In a personal injury lawsuit, one of the most important considerations is how much the injury has affected your quality of life. Accident victims may be eligible for compensation for the diminished quality of life that results from their injury.
If you sustained an injury and someone else is to blame, the Colorado personal injury lawyers at Earl & Earl, PLLC, can help you seek financial relief for the full extent of your losses, including its effects on your future. We can calculate how much you deserve for diminished quality of life and help you pursue maximum compensation. Call or contact us today for a free consultation with an experienced attorney. 
What is Meant by Diminished Quality of Life?
Diminished quality of life describes the effect of an injury on an individual's general well-being and ability to enjoy life. This might include the victim's ability to participate independently in daily or recreational activities. In a civil lawsuit, diminished quality of life is a significant factor when assessing compensation for an injury.
Diminished quality of life considers an injury's physical and emotional costs. For example, a person who suffers a life-changing brain injury may be unable to participate in activities they did before their injury, such as playing sports or going for walks. Diminished quality of life also considers a person's inability to care for themselves or others due to their injury. 
How is Diminished Life Quality Calculated?
Various factors are considered when determining the amount of compensation to award to a victim for diminished quality of life. Examples include the person's age and health pre-injury, as well as the day-to-day impact of the injury and its long-term consequences. This process can be complex because it requires evaluating past and future losses. A lawyer may hire experts to calculate the value of diminished quality of life by placing a value on intangible losses.
What Should I Do If My Injury Impaired My Quality of Life?
If you suffer an injury that reduces the quality of your life, it may be in your best interest to seek legal help. Intangible losses like diminished quality of life and emotional distress are difficult to document, which means they are frequently disputed in a personal injury claim. A knowledgeable personal injury attorney can calculate the total value of your case to help you seek full and fair compensation. 
To receive compensation for diminished quality of life, you must present evidence showing how the injury decreased their ability to enjoy life. Here is what you can do after an injury to protect your legal right to full compensation:
Seek medical treatment

 – Get your injuries diagnosed, treated, and added to your medical record. This crucial evidence proves that you suffered an injury and that the injury is connected to the accident. Follow your doctor's care plan and attend all follow-up appointments.

Keep essential documents

 – Retain copies of the medical records, tests, or lab results that illustrate the severity of your injury. Also, keep any bills, invoices, or receipts related to your medical treatment.

Keep a journal

 – Write down how your injury impacts your ability to enjoy life, including any daily activities or hobbies you can no longer participate in.
What Injuries Can Limit Your Ability to Enjoy Life?
Various injuries can limit a person's ability to enjoy life. The most common injuries that result in diminished quality of life include:
Chronic pain

Soft tissue injuries limiting range of motion and function

Blindness or deafness

Injuries resulting in permanent disability

Permanent scarring or disfigurement

Spinal cord injuries

Paralysis

Traumatic brain injury (TBI)

Amputation
What Factors Impact Quality of Life Damages?
Various factors can impact the quality of life damages in a personal injury lawsuit, such as: 
Age

Physical appearance

Work and educational background

Severity of the injury

Long-term consequences of the injury

Whether the victim shares any responsibility for their injury

Any pre-existing condition
Get Help From an Experienced Personal Injury Attorney
If you suffered an injury that prevents you from participating in life the way you once did, a Colorado personal injury lawyer at Earl & Earl, PLLC can help you pursue the justice and compensation you deserve. We understand how difficult it can be to cope with a sudden and dramatic change in your lifestyle, so we strive to make the legal process as simple and stress-free as possible. Call or contact us today to learn how we can help.