Types of Damages You Could Recover in a Personal Injury Claim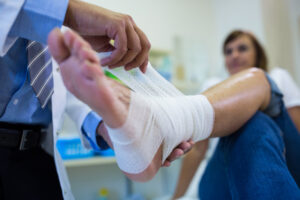 In Colorado, damages is the legal term for compensation for an injury caused by someone else. Many people are entitled to compensation for economic losses after accidents, such as medical bills or property damage. But sudden accidents result in more than just financial losses. State law also allows individuals to seek money for non-economic losses such as pain and suffering. But how do you put a price on such intangible losses? These non-material damages are harder to calculate but no less important. 
If you were hurt in an accident, the Colorado personal injury lawyers at Earl & Earl, PLLC can tell you what your case is worth after reviewing the facts. Call or contact us now for a free consultation. 
Personal Injury Damages in Colorado
After an accident, injured people can seek compensation from the at-fault party(s) in Colorado. Common personal injury claims involve auto accidents, dog bites, slip and fall incidents, pedestrian crashes, defective products, and wrongful death. 
When you file a claim, you can pursue two types of damages: compensatory and punitive. 
Compensatory Damages
Compensatory damages can provide relief for both economic and non-economic losses.
Economic losses are financial losses stemming from the accident. These are losses that you can calculate. Examples include:  
Medical bills

Lost wages

Loss of future earning capacity

Rehabilitation

Costs for prescription medications, assistive devices like wheelchairs, and round-the-clock nursing care

Out-of-pocket expenses, such as mileage for travel to doctor's appointments

Property damage
Non-economic damages are intangible. These losses do not have a specific dollar value because they don't come with billing statements or invoices. 
In Colorado, you can receive compensation for non-economic damages such as: 
Emotional distress

Loss of enjoyment of life

Pain and suffering

Disfigurement

Loss of consortium
Punitive Damages
Punitive damages, sometimes called exemplary damages, are meant to punish a defendant for their misconduct and deter similar behavior. Under Colorado law, these damages are available only when there is proof of "fraud, malice, or willful and wanton conduct." Punitive damages are rare and can only be awarded at trial.
Is There a Cap on Personal Injury Damages in Colorado?
Colorado does not cap damages on economic losses in most personal injury cases. However, the state does impose an inflation-adjusted $250,000 cap on non-economic damages unless the court finds "clear and convincing" evidence to award more. In those situations, awards cannot exceed $500,000.
The state does set non-economic damage caps for certain types of personal injury cases:
Medical malpractice –

$300,000 plus inflation

Wrongful death –

$250,000 or $500,000 plus inflation (except in medical malpractice cases or if it was a felonious killing)

Dram shop –

$150,000 per person injured
Punitive damages are also capped in Colorado. The amount awarded for punitive damages in most civil lawsuits cannot exceed three times the amount awarded for compensatory damages. The court may reduce the amount awarded for punitive damages or disallow them.
Contact a Personal Injury Lawyer Today
At Earl & Earl, PLLC, we treat our clients like family and provide them with personalized attention and top-quality legal services. Let our experienced lawyers fight for the full and fair amount of compensation you deserve. Contact our office today for a free case review.